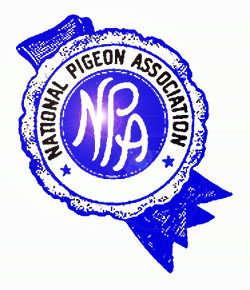 NPA GALLERY of FANCY PIGEONS.

By Clicking the links below: You Will Be Taken To the Pages Of The NPA Photo Gallery Of Fancy Pigeons. Please Note That These Photographs Will Take A Few Minutes To Download Properly. We have placed only a few photographs per page in order speed up the download time!
All photographs are copyrighted by the NPA and the photographers. The use of photos without permission is forbidden.

GALLERY of GRAND NATIONAL CHAMPIONS - Past and Present.

* Coming Soon!* CHAMPION PIGEON GALLERY - FANCY and RACING

Would you like us to place a photograph of your Quality Pigeon on our Site? We welcome photographs of Quality Racing, Performing and Fancy Pigeons. Please email us your photo as an attachment (jpg), or contact us about scanning your photo! All photographs will be considered for future publication!